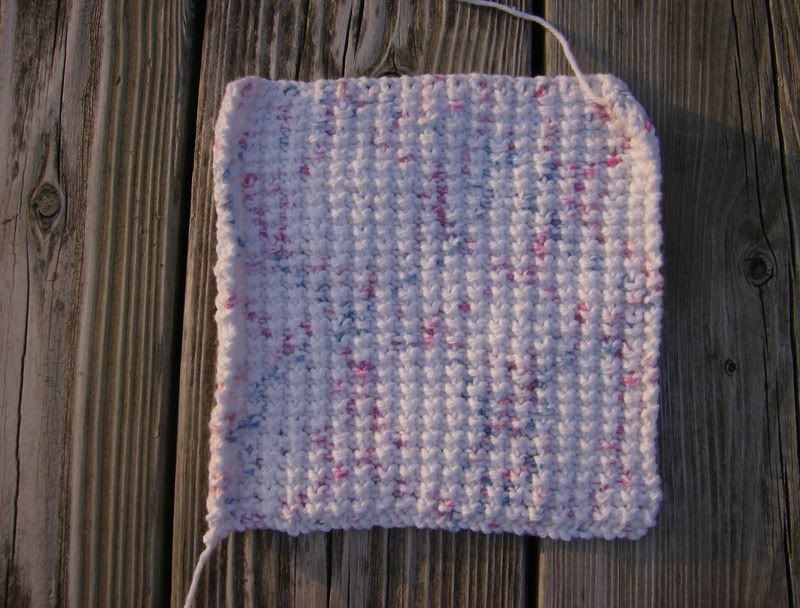 I made this cloth AGES ago. I photographed it in April of 2008. It is sitting on the coffee table just to the right of my laptop as inspiration for my current knitting project. I use this cloth to clean up spills in my living room, which seem seem to happen all to often. Whether it be food or drink related, or spills from the watering can while watering my plants, it's an almost daily occurrence. Regardless, it does a wonderful job.
I am using a skein of Bernat Handicrafter in the "Celadon" colour (a really nice pale green) to make a nearly identical cloth. This one, however, is destined to be a
face
cloth.
Yes, something with which to wash ones face, or other parts of the body. It's wonderful in the way that one side is nubby and scrubby, and the other is fairly smooth. I am hoping this translates to a light exfoliation side, and then a non exfoliation side. It's being knit on size 6 needles,
41
43 stitches. I think the next time I will go down to 39, or maybe even 37 stitches. It's a very quick knit, being only k1p1, and knitting rows, alternating. I am hoping to get several of these done for Made In Windsor fairly quickly. I think they will each use up one of the small Handicrafter skeins, but I won't be sure until I reach the end of this one. As soon as I find my pink skein of Bernat Cotton Tots, I will be making one of these for myself.
I have been quite productive lately. I finished a hat the other day (still need to blog about that!) and started on an other. I want to get 5 more things to the store by the next time I go there.