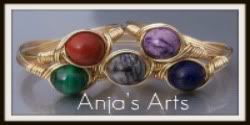 May means another month of great sponsors! I would like to welcome back Christy of
Anja's Arts
. This month, I asked my sponsors what their top three movies are.
Here are Christy's answers:
Sabrina (with Audrey Hepburn)
Gone with the Wind... even though it's so incredibly sad.
Letters to Juliet... I dream of going to Italy :)
Etsy Shop
~
Twitter
Don't forget, you can use the code KnitNicole15 in her shop to save 15%!