When I woke up this morning, I had absolutely no desire to continue with this posting series. I had no desire to do much of anything, to be honest. I didn't even want to knit. I tried to watch TV but the satellite wasn't working. I tried playing with the dog, and he didn't feel like it. So, I woke Rick up and made him take me to Arby's. We come here pretty regularly, at least we used to, because the internet is much MUCH faster than at home, and we can actually download our TV shows in a reasonable amount of time. I had a back log of Duck Dynasty shows to get, as well as an episode of 2 Broke Girls.
Coming to Arby's is always an adventure. Today started out with us unable to get our usual table. Not the end of the world or anything, just a minor annoyance. So we sat at our second choice, and started to set up. There were people near us, which is never really a desirable situation, as questionable content sometimes pops up in our RSS feeds. That table left and it was quiet for a while. A short time after that, a screaming child came in for a bit. Then a little girl trying to get her Oma's attention by repeatedly saying OMA OMA OMA rather loudly, while said Oma was having a conversation with someone else at the table. I really try to ignore these things, but it's not always possible. Does this make me a bad person?
Anyway, today's 365 photo is of our sandwiches. More often than not, we each get the 4 for $6 deal. Two sandwiches, curly fries and a drink. It's enough food, for a good price. And, we can take our time eating it. I don't really like to sit around there for too long without having food or drinks on the table, because I feel like I'm getting in the way. That actually never happens, but I can't help but feeling like it's the truth.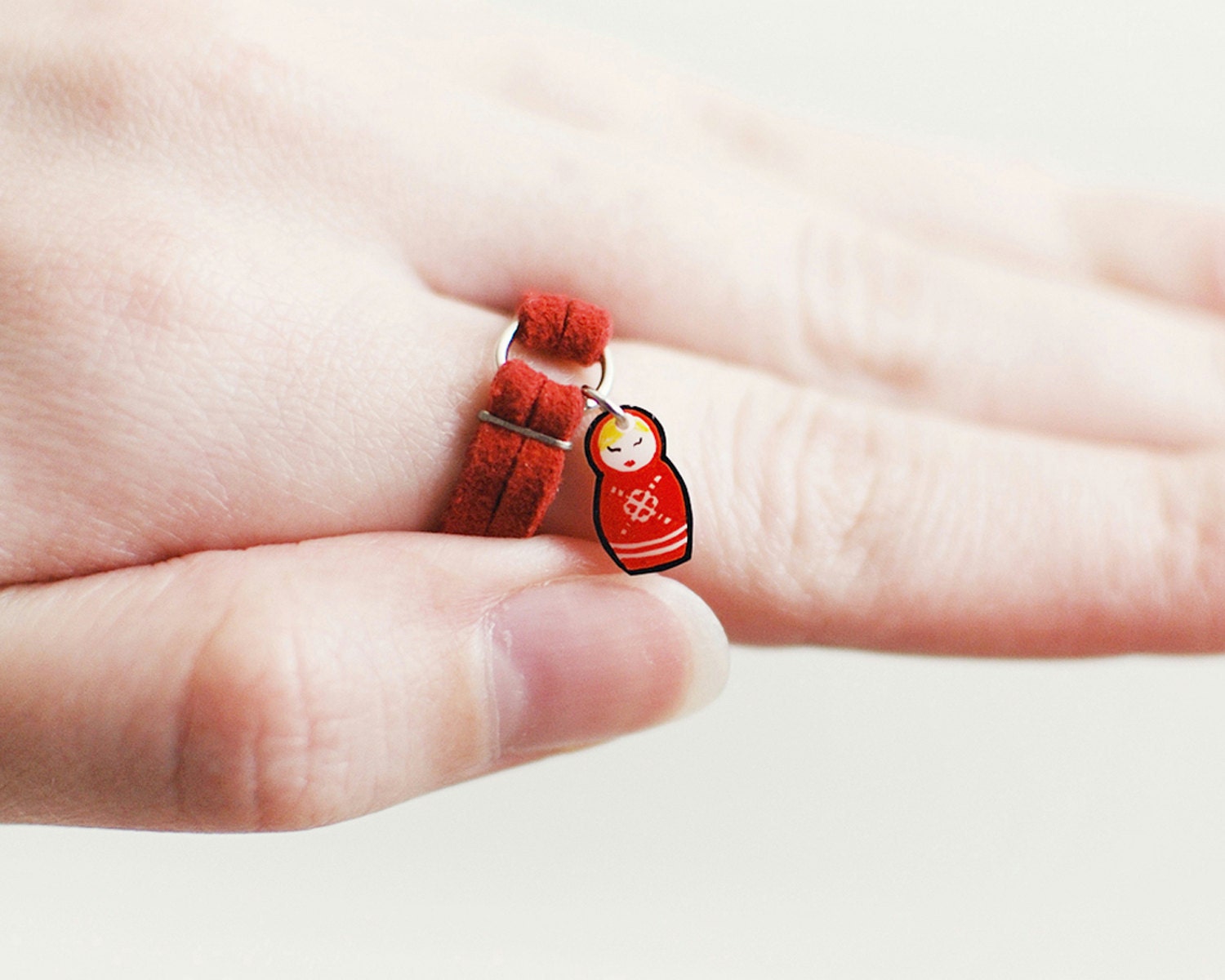 I decided to wear my matryoshka ring from
SOMETHINGMONUMENTAL
today. I got a couple rings from Mandy a little while back, and I haven't worn them at all. It's hard to wear rings to work, because I'm terrified they're going to get caught on something and either break, or, even worse, break my finger. It's on my pinky, and I keep catching little glances of it dangling while I type, and it's making me smile. I love little matryoshki!
I spent a couple hours trying to get ad space up on my I Love Etsy blog. I have Passionfruit Ads on the YarnYarnYarnYarn blog, and that didn't give me any issues when I added the code for it. For some reason, it's just not cooperating with this one. Rick helped me with it, and I thought it was figured out, and it just pretended to be. I'll probably have to come back to it later and try again. If you have any tips for adding Passionfruit Ads to a tumblr blog, please let me know!
Like I mentioned earlier, I didn't even want to knit this morning. I have a few projects on the needles, but nothing was appealing to me at all. I don't know if I'm burned out, or uninspired or something like that. I just have to fall back in love with knitting, that's for sure. I spent some time looking at patterns on Ravelry. There are a few different items I want to add to my craft show arsenal, but I need to find some photos to get an idea of proportions and stitch patterns. I don't want to do anything too simple, nor too complicated.
Here is today's edition of fun facts about Nicole.
37. My brain is a sponge for useless information. The only time any of these random facts come in handy is when I'm watching Jeopardy. I wish I could remember names as well as I remember that Louis XIV was called the Sun King. Or to reply to important emails on time like I can remember phone numbers I haven't dialled in ten years or more. My random fact bank also includes things about random celebrities, strange song lyrics, a few scientific facts and other things that don't usually make for interesting dinner conversation. I seek out information pretty readily, usually by reading various articles online.
38. I hate being hot. When I lived in my first apartment, it was horribly laid out and my one little window air conditioner couldn't cool the entire place. I put a blanket up in the doorway of my living room, and lived exclusively in that room for the duration of the hot weather. It wasn't very fun. The really strange thing about this, is that I love super hot showers. I like being warm in the shower, and cold everywhere else. I've said before that I'm a strange person.
39. I play games obsessively. I get addicted to different games every few months. Whichever one is hot at the moment, I will play for hours at a time. Sometimes, it's a Facebook based game, but usually, it's on my iPhone. But I will play so often, that my phone battery will die several times a day. I'm currently on the lookout for a new one. I wanted to play RollerCoaster Tycoon, but I can't find a download for Mac. I also thought about getting Sims again, but that one is WAY too addictive. I just started Plague Inc. for iPhone, and it seems pretty interesting.
Okay, so I got distracted with Plague Inc. I played it for a while, and nearly killed my phone battery. This should make for a new game addiction.
I got a little more bracelet knitting done this evening while watching The Walking Dead. Finished a white, four wrap bracelet, and started on a white three wrap. I'm still going for some variety. I'm going to try making them with embroidery floss after I'm done with this one. It seems to be the right weight, and I have tons of the stuff. I've also been toying with the idea of adding beads into them randomly. Oh oh oh! And stripes and colour blocks. I have a lot of ideas, I just want to make sure they will sell before I make too many of them. I hardly sold any of the simple ones last craft show season, and I don't want a crap ton of them sitting around. Once I get the Made in Windsor show done, I will get some of them photographed and listed in the shop. I have a few other plans for them, as well, but I don't want to reveal too much just yet.
I put off most of the writing until late at night. Now, it's getting close to midnight and I am several hundred words away from my goal. The last couple days, I've been under my word count, so I am trying to play catch up. It seems like this one will be under, as well. I have to get some more ideas together so I can get a couple word heavy posts made and get back on target. My real goal is actually just 15 days or more, and at least 25 000 words. If I can make it halfway, I will count it as a personal victory. There is always next year, right? (Plus, if I do it next year, I can do more planning, rather than just "Hey, this sounds like a good idea")
This post has 1259 words.
I am at 16 643 total words for this month.